What I do - In English
Logo
I can help you with a logo or with a complete graphical profile. I work best using a few guidelines, but can from time to time take on a more abstract job.
This is a logo and graphical guidelines made recently: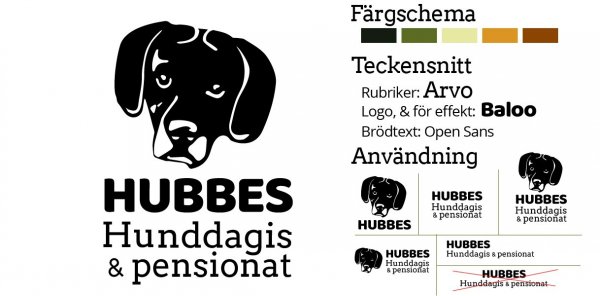 (click to enlarge in a separate tab)
Included are minor adjustments to the website, if necessary and if you want.
I'm afraid I do not have a before- and after for their website, but it is at www.hubbeshunddagis.se in case you are curious.
Website
I have quite a few "packages" for website design and help with website design. I am familiar with most content management systems. I can also do a little bit of programming, but nothing I like to brag about. See the portfolio of (now some fairly old websites here.
The newest website and design is www.ccc2018.se and www.coopcare.se both in WordPress which is and will be awesome. Most of the design there is taken care of by the WordPress template, but it took a WHOLE lot of tweaking to get it to behave and also to look the way we wanted.
In CoopCare I also did the logo and styling.
Online classes
I am working on setting up a "package" that contains all you need to get an online class up and running (if you have the content and the videos). The price for this is not set, but feel free to tell me if you are interested.
Power points, business-cards, printables.
If you have a logo and a website you are happy with, but just can't get the 'feeling' across in power-points or on stationery, don't hesitate to contact me, I am happy to help. A mixed graphical profile can lower the 'professional feeling' of a company.
Contact me
(you know the drill, name, email, subject, message)